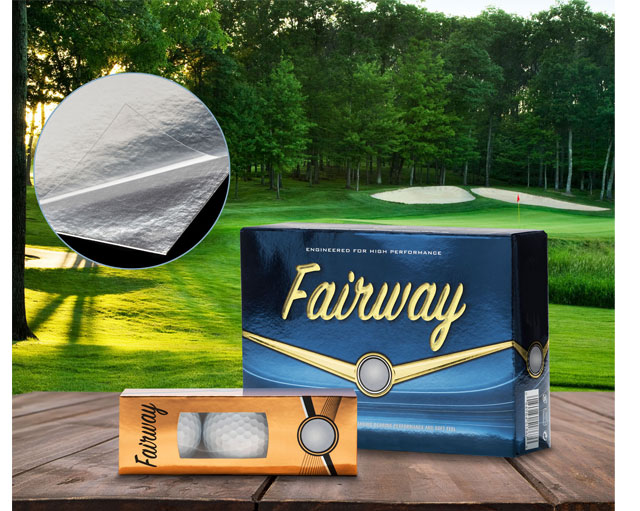 TORAY PLASTICS (AMERICA) INTRODUCES NEW, ECO-FRIENDLY METAL-TRANSFER FILM FOR DECORATIVE PACKAGING AND PRINTING APPLICATIONS
New Lumirror® MR20 is a super-bright, cost-effective metal-transfer PET film that can be returned to Toray for recycling after it has been converted.
Toray Plastics (America), Inc., (www.toraytpa.com), introduces an exciting new, environment-friendly, advanced metal-transfer film that creates a brilliant reflective surface for premium decorative packaging, point-of-purchase displays, and specialty printing applications. Lumirror® MR20 polyester metal-transfer film allows vacuum-deposited aluminum on the film surface to be transferred with adhesive to paper and paperboard for superior brightness. Lumirror MR20 is manufactured in-house using Toray's proprietary film formulation and metallization process. Traditional metal-transfer films are made by means of multiple steps and usually require a longer supply chain. The finished film sheet has superior brightness and excellent transfer properties. When MR20 film is adhered to paper and paperboard and the PET film is removed, the new metallized substrate is easy to convert at high speeds and can ultimately be repulped or recycled. After the transfer metallization process is completed, the PET base film can be returned to Toray for recycling. Lumirror MR20 applications include packaging for cosmetics, personal care items, specialty food items, confections, pet food, alcohol, sporting goods, toys, and other retail goods, as well as printed items.
"Efficient, eco-friendly metal-transfer film manufacturing and luxurious-looking, recyclable packages and printed items are no longer mutually exclusive," says Milan Moscaritolo, Senior Director of Sales and Marketing, Lumirror Polyester Film Division. "Toray's sophisticated, simplified processes help CPGs and converters save time and money and help turn an ordinary-looking mass-produced packaged good or printed item into something extraordinary. In addition, the environmental benefits are substantial. New MR20 film can help CPGs build brands, grow business, and meet their sustainability goals."
Paper and paperboard that are transfer-metallized with MR20 film exhibit excellent dead-fold properties, remain flat and smooth, do not delaminate or curl, and the metal does not flake off. They also enable source reduction and reduced shipping costs. In addition, film-free transfer-metallized paper and board are brighter and more vivid than those that incorporate metallized film.
For more information about Toray Plastics (America)'s new Lumirror MR20 film, contact Mary Gervais, Brand Manager, at mary.gervais@toraytpa.com or 401-667-2281.
Toray Plastics (America), Inc., is a leading manufacturer of polyester, polypropylene, bio-based, and metallized films for flexible and rigid packaging, lidding, graphic, industrial, optical, and electronic applications. It is also a leader in the manufacture of polyolefin, polypropylene, and polyethylene foams for the automotive and flooring industries. The company is a subsidiary of Toray Industries, Inc., the world leader in synthetic fibers and textiles, carbon fibers, plastics, chemicals, pharmaceuticals, and high-performance films, which has annual sales exceeding US$19 billion. Toray Plastics (America), Inc., headquarters is located at 50 Belver Avenue, North Kingstown, RI 02852-7500; telephone 401-294-4511, fax 401-294-3410. Visit the Toray Plastics (America), Inc., website at www.toraytpa.com.