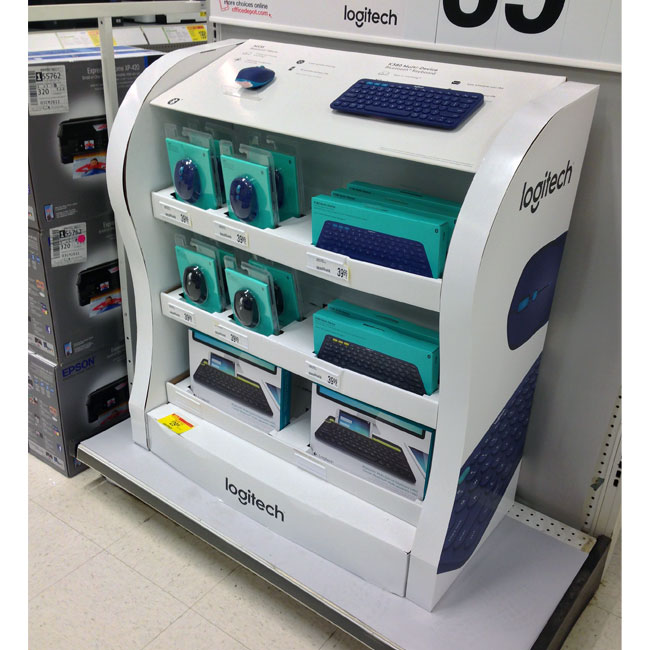 For 30 years, Logitech has been connecting people through computers and devices for the home, school and office. According to their website,  Logitech's leadership in innovation now encompasses a wide variety of personal peripherals (both cordless and corded), with special emphasis on products for PC navigation, gaming, Internet communications, digital music and home-entertainment control.
The company recently rolled out this end cap display to promote their K380 Multi-Device Bluetooth Keyboard and the high performance Logitech M535 Bluetooth Mouse. What's unique about the K380 is that it can connect to up to three different devices, allowing users to switch between them quickly and easily. Paired with Logitech's new M535 Bluetooth mouse, the two devices can be a perfect combo.
In a recent interview, "We're living in an era of creativity where we can capture, edit and publish content wherever we feel inspired and on any device," said Charlotte Johs, global vice president of computer peripherals at Logitech. "In this connected and multi-device world, work is no longer bound to the office or studio. The sofa, back yard or coffee shop is the new work station, and the Logitech K380 Multi-Device Bluetooth Keyboard and Logitech M535 Bluetooth Mouse fuel the freedom to create anywhere without compromising precision and comfort."
Last year, Logitech won five awards, underscoring how design is at the core of what they do in the world of consumer technology. This end cap display emulates the same vision that the company employs when creating beautifully designed products for the digital world. The clean, curvy display neatly merchandises several SKU's of mice and keyboards. The angled copy panel at the top creates an interactive area where shoppers can touch and feel the products as well as acquire product attributes for each device.