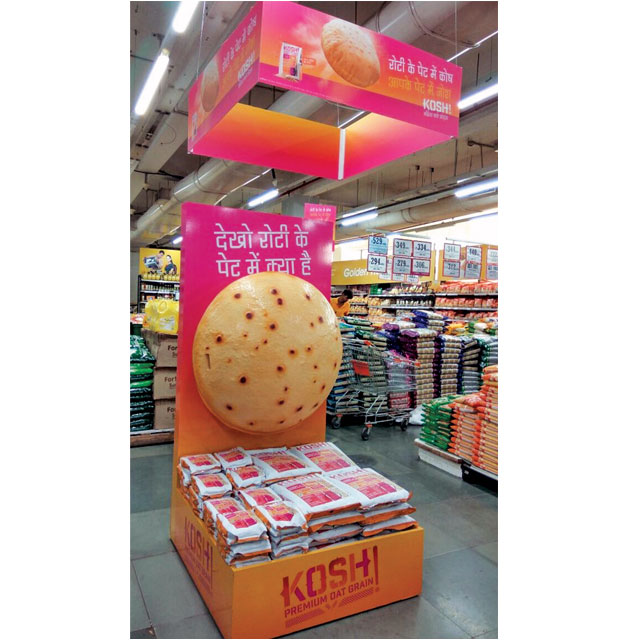 Kosh, the premium oat grain brand from Future Consumer Limited, recently launched an innovative campaign across several modern trade stores in India. Grown and sourced from Australia and processed in Sri Lanka, the oats are available in four variants…. Instant Oats, Broken Oats, Oats Atta and Kosh Wheat+Oats Atta.
In a recent interview, Kishore Biyani, Group CEO, Future Group, said, "At Future Group, we believe in evolving with the changing consumption patterns. The launch of Kosh Oats is such an attempt to set a trend in the food space by introducing it as the third grain of India. Oats has always been introduced as a breakfast item. With Kosh, we strive to change that and make it India's third grain that can be used in every meal right from the starters to desserts."
This in-store Kosh campaign is a segment of a larger, more holistic push to make Kosh Oats a household name by communicating with shoppers at an intrinsic level. Ogilvy Mumbai was responsible for creating the multimedia launch strategy that embodies the idea of good health and the theme….. 'Roti ke pet mein Kosh, aapke pet mein josh'.
When asked about the creative, Piyush Pandey, Executive Chairman and Creative Director, O&M South Asia, "Kosh means treasure and this Kosh is the treasure of good health. That is why, when we designed the communication for Kosh, it was all about health benefits, versatility and range."
According to the brand, the POP display posed several design challenges, one of the biggest being the fabrication of the roti and getting it to look as natural as possible. Another structural challenge was creating a functional storage space within the roti so that additional product could be stored to restock the display. Almost 4 vendors, 8 prototypes and 11 revisions later, they arrived at the right kind of a roti free standing unit that achieved all of the objectives.
Based on consumer response, the brand is planning to refine and roll-out the campaign to another 120 stores using sampling, digital media and storytelling.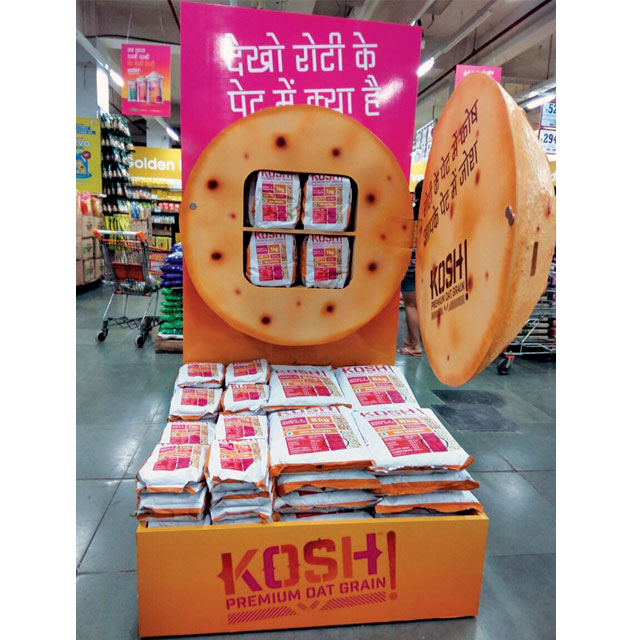 Related
Boring Sandwich End Cap Display
Knorr Soup Bowl And Spoon Display