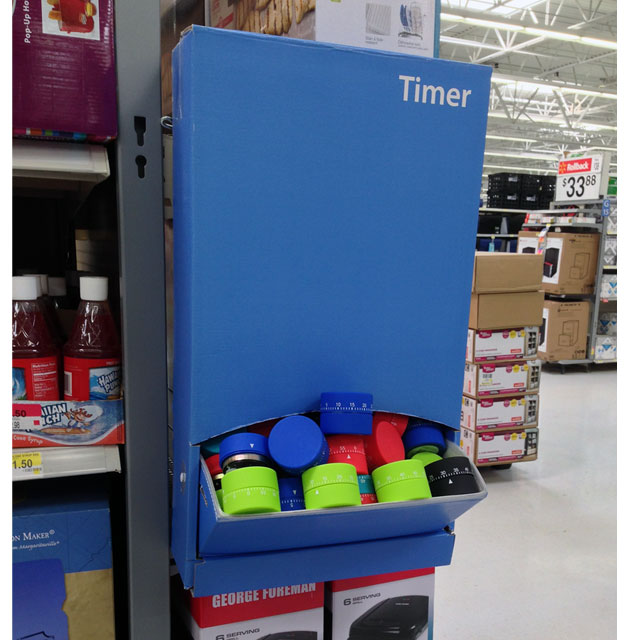 At first blush, this blue display looks like your everyday, commonly used side kick design with pull-out bin. However, upon closer inspection, we noticed something very different about this timer display.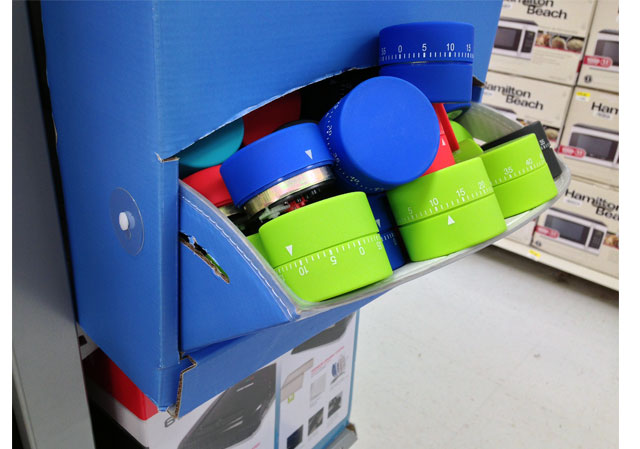 The entire perimeter of the pull out bin was reinforced with a plastic lip which was stitched into the corrugate……click here for a closer look. Never have seen this sort of treatment before but it definitely did the job. In addition, a fastener and plastic washer were used on the sides of the display to strengthen the die cut slot that enabled the pull out bin to be opened and closed.
Not sure why there weren't any category-related graphics printed on the display? Only messaging was the word timer. Maybe minimalistic was the theme on this one. The blue leads us to believe that this side kick was produced directly for Walmart and more than likely overseas. If anyone has additional insights to share, feel free to contact us.
Check out some of the links below to view additional images of various side kicks that utilize a pull out bin in their designs. You will see different treatments but for the most part, there aren't a whole lot of options out there for this style of display……which is what makes this timer side kick so unique.
Carmex 3 Bin Side Kick Display
Gold Bond Trial Size Side Kick
Hedstrom Playballs Side Kick Display
Sour Patch Kids Extreme Side Kick
Neutrogena Beach Defense Side Kick Displays