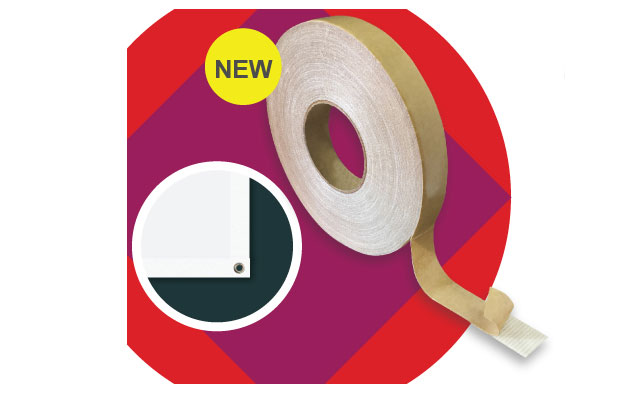 Essentra Introduces DURACO BHT: Banner Hem Tape, a New Adhesive Tape Designed Specifically for Use with Banners
Duraco® BHT Banner Hem Tape is a perfect adhesive tape for seaming and finishing edges of vinyl, mesh or fabric signs and banners. Moreover, Duraco BHT eliminates the need and added cost for stitching or welding. It is available in three different widths: 1, 1½ and 2 inch widths.
With the continued expansion into new adhesive tape markets, Essentra identified the need for a high performance banner hem tape that is suitable for both indoor and outdoor banners. Additionally, the unique construction is ideal for pole banners as it supplies extra strength during high winds.
Duraco BHT utilizes an innovative adhesive tape and carrier technology which exhibits superior performance compared to competitors; it delivers a smooth hem, allowing for clean corners and easy grommet application.
With the addition of the Duraco BHT Banner Hem Tape, Essentra again exhibits its diversified experience, understanding and knowledge in the various double-sided tape markets and the necessary solutions required. With this new product introduction, Essentra demonstrates its commitment in solving market challenges with its full offering of specialty adhesive tapes.
For more information on Essentra's Duraco BHT, visit: http://www.essentraspecialtytapes.com/banner-hem-tapes.
About Essentra Specialty Tapes, Inc.
Essentra Specialty Tapes offers a wide selection of uniquely functional tapes required by a wide range of end-markets, such as: Point of Purchase displays, to effectively merchandise store products in retail establishments; by appliances, to make them water-tight and quiet; in buildings, to reinforce structural or design elements; in schools and museums, to provide permanent and temporary fastening solutions for changing needs; for sealing envelopes and securing package contents prior to shipping; and for many more customer requirements.
Products include foam tapes, transfer tapes, hook and loop fasteners, film and laminating tapes, high bond tapes, weather stripping, bumpers and magnetic tapes, among others. All products are available in stock, with the company also able to accommodate custom orders. The company has almost 70 years of design and manufacturing expertise that ensures dependable product performance and unmatched service. The company's express distribution locations are positioned to provide customers fast, local and convenience service.
About Essentra plc
Essentra plc is a FTSE 250 company and a leading global provider of high volume, essential components and solutions, which serve customers in a wide variety of end-markets and geographies. Headquartered in the United Kingdom, Essentra's global network extends to 33 countries and includes 9,000 employees, 69 principal manufacturing facilities, 64 sales and distribution operations and 5 Research and Development Centers. For further information, please visit http://www.essentra.com.