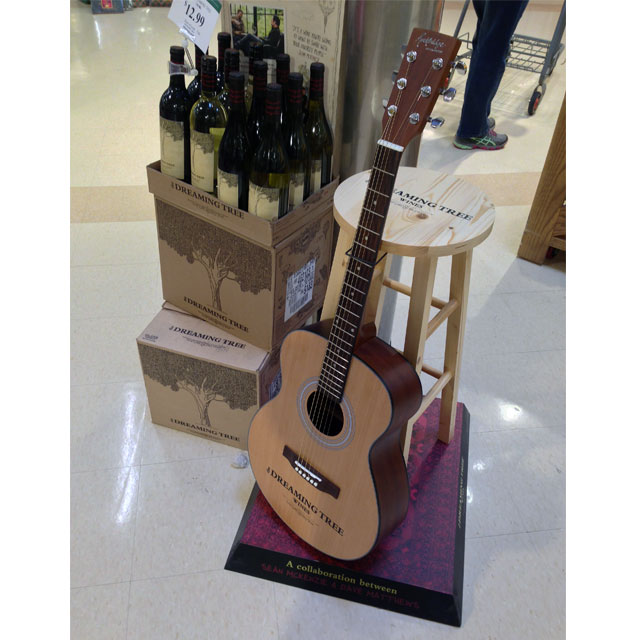 The Dreaming Tree Winery is jammin' on into retailers with this music-inspired floor display. Co-conspirators, Dave Matthews and Sean McKenzie, released their first bottles of wine back in 2011. Since then, their award-winning blends have made their way into the wine section of several major supermarket chains.
From The Dreaming Tree website…….. "A real foundation of being a great winemaker is someone who loves community and that shared feeling. That parallel between what he does with music and what we do with wine is amazing" – Sean on Dave
Our first posting for The Dreaming Tree discussed the winery and its eco-friendly initiatives…..a good read. The article also featured a very cool guitar-themed floor display which you should check out.
We released a follow up article for the brand that highlighted another great floor display, this one being tree-themed.
In this update, we will be highlighting the newest merchandiser from the winery which is also a tribute to Dave Matthews, the musician. The design consists of three components: a base, stool and guitar.
All three elements are synonymous with Dave's musical background and do a really nice job of grabbing the attention of shoppers looking for something different to try. Fans who don't know that Dave has a wine brand may make a purchase after learning that it's a Dave Matthews related product. Either way, new or loyal brand ambassadors, the display speaks volumes while serving a dual marketing role.
Related
Dreaming Tree Floor Display Strikes A Chord With Wine Aficionados