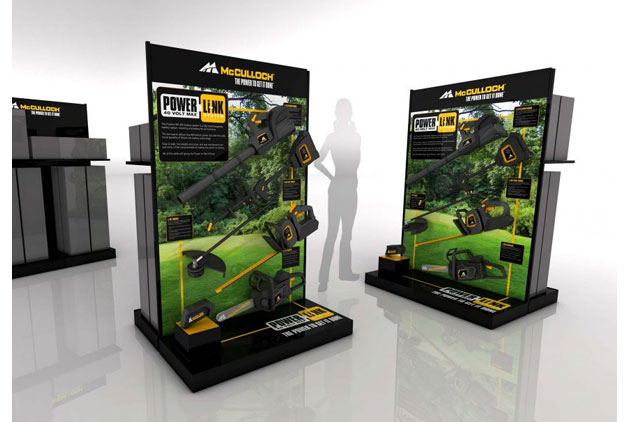 Cirka launches pan-European in-store fixtures and POS for Husqvarna brand McCulloch
McCulloch have recently entrusted Cirka with their 2017 product launch after the design team won a three way creative pitch, to launch the brand's new robotic mower ( "ROB") and their power tool range "Power~LiNK" across Europe.
With the robotic mower market set to be worth $2 billion globally, by 2021 in the UK, you could be forgiven for thinking why haven't I seen one? Well, the UK has yet to fully embrace this robotic revolution and this lack of knowledge was an ideal starting point for the creative team.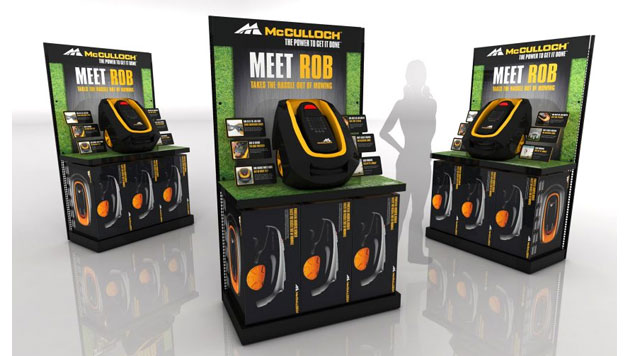 How is not knowing about a product a creative advantage?, It means that assumptions are not made and this allowed the design team to really start to understand the challenges, doubts and suspicions that shoppers might have for this game-changing garden product.
Working with the McCulloch's brand marketing team, Cirka's designers took and evolved a top level comms idea into engaging and educating retail comms package. This allowed a consistent messaging to be communicated across a range of POS equipment of varying budgets, in multiple languages.
The time spent to understand the brand, proposition and product from the very beginning is testimony to the fact the 90% of our original pitch winning creative remained unchanged throughout the development process, and has gone into market.
A tiered suite of units were produced varying from flagship 3m x 3m live demo units, (complete with clever use of artificial grass, real wood fencing all while remaining flat-packable, and compact for European shipping and self assembly) to the other end of the spectrum with cost effective small footprint FSDUs.
Cirka's extensive and wide range of manufacturing materials base allowed the team to tailor material to each and every unit. Beautiful dibond double side direct printed back panels were used to achieve the structural integrity on one unit to hold the product without the need for metal back panels and cross bars, increasing impact and reducing costs.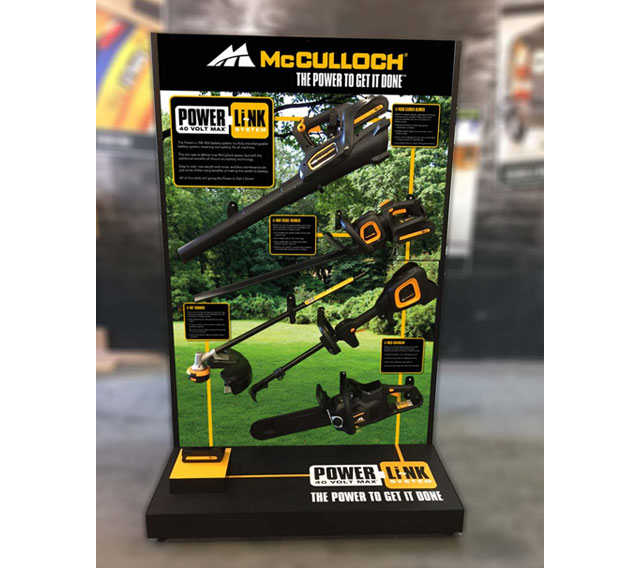 This project also allowed the creative development team to go back to basics by getting hands on with the designing of the bespoke product mounts for the Power~LiNK products. CAD and Solidworks created the main structural design as usual but the designers opted for a more hands on approach when designing the mounts to ensure that the products could be removed for customer demo and handling, (McCulloch's products are beautifully designed to be balanced and easy to use) so being able to do this easily and safely was a key aspect for the development process.
With first hand client input at the production facility, mounts were tweaked and changed before final CAD production. Sometimes you just can't beat the human touch.
The end result was a impressive range of POS to match the brand's tiered launch strategy to over 16 countries, designed, developed and manufactured in-house on time and on budget.
As the displays go into markets in the next few weeks, we look forward to visiting the display in-store and especially seeing the ROB robotic mower doing his thing in Cirka's designed "live demo arena".
About Cirka
POWER OF INTEGRATION
We believe that business is all about relationships, and the knowledge that you are in safe hands when it comes to how your brand is handled and portrayed in the public domain.
Cirka was formed from different aspects of the retail world, realising how easy it can be when you combine all our strengths – and most crucially – at all stages of the design process.
We strongly feel the whole is greater than the sum of its parts:
Creative involvement and oversight from beginning to end;
Ownership and accountability of the project from start to finish;
Material selection using our extensive experience working with a wide range of permanent materials (wood, plastics, metal).
As the client, you can choose to utilise all or some of our resource.