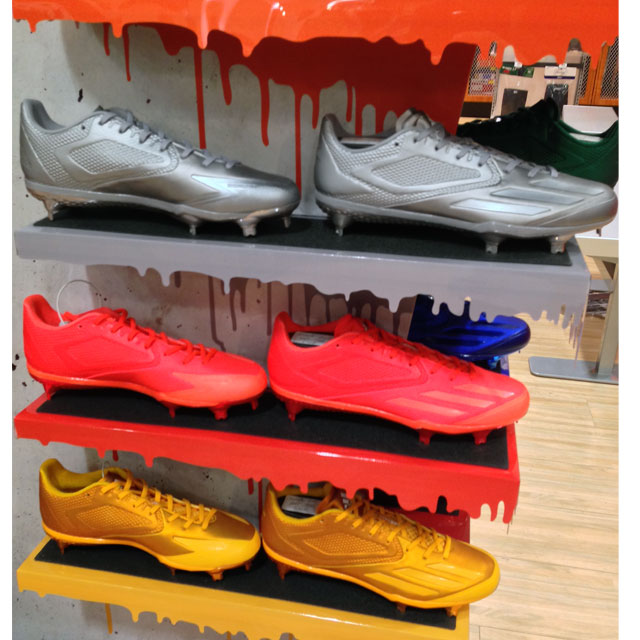 Adidas Baseball recently unveiled their 2017 Adizero Afterburner 3 "Dipped" cleat collection at sporting goods retailers across the U.S.. Inspired by sneaker trends around the world and featuring 15 unique colors, the collection brings monochromatic color blocking to the diamond for baseball's fastest athletes. The cleats also boast being the lightest in the game weighing in at a mere 9.3oz.
As adidas Baseball continues to pioneer the #CLEATHEAD culture, the "Dipped" collection marks a new era of style combined with innovation and performance for baseball's top players.
In addition to all of the social marketing on Facebook, Twitter and Instagram, the brand also partnered up with Dick's Sporting Goods to deliver this absolutely awesome floor display. Constructed using a combination of materials, the display was an immediate attention-grabber in-store. Most noticeable were the color-coded 'dripping' covers placed over each of the shelves. The material appeared to be a plastic with very intricate die-cut 'drips' that complemented the various cleats on display. The dripping effect was also carried over onto the main support body, creating a vertical flow that continued on down to the base.
Related
Adidas Springblade POP Display Radiates Energy For Runners
Adidas Soccer Ball End Cap Display
Adidas 360ATV Demo Shelf Display