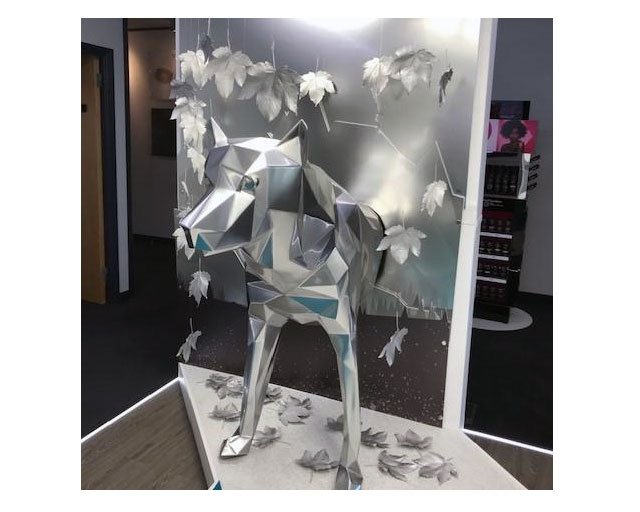 We've had a lot of interest in the more creative capabilities of our 3D printers over the last few weeks. Our Massivit 1800's recent upgrade has seen some fantastic results, from a giant wolf to bespoke lightboxes to full-sized human models. Which got us thinking about the opportunities this technology offers retailers, show rooms, company headquarters – in fact anywhere that needs to pack a punch, visually.
Take retail. There's been a real shift on the high street as more and more of us shop online. Stores need to stand out, offer something different and create new experiences for customers. That's where 3D printing can really help. Pop-up shops and temporary installations are the perfect illustration of how retailers and brands are creating rich, experiential environments for their customers. 3D scanning and 3D printing are the ideal tools for creating all kinds of elements in bespoke environments: from bespoke shelving, customised lighting, fixtures and fittings to stand out creative features and displays. And it's fast.
3D printing brings huge creative freedom. If you'd like to try it out or have an original idea you'd like to explore with us, get in touch! Here are a few of the imaginative projects our Massivit 3D printer has helped with recently.
Wolf
Last week we printed a fabulous faceted wolf on our Massivit 1800. At 1.5m high, this was printed in a matter of hours, the stylised piece comprising a head and shoulders that were printed in one; and two front legs printed separately. The wolf was smoothed and given an undercoat before being dispatched to the client who will be finishing it themselves. This eye-catching feature will be installed in a company HQ to look as if it is leaping through a wall. An imaginative, captivating solution delivered to our client in a matter of days. We'll be revealing a video of the whole process in a few months, so keep an eye on our social media channels!
Figures
How long do you think it would take to print a fully clothed, life-sized figure? Last week our Massivit printed a man and a woman, accurately capturing details such as folds in the clothes, buttons and pockets – each taking just 8 hours to print. The figures will be used by our client to create moulds for a larger production run. Interestingly, there's been a shift in the world of 3D printing. This technology is heading away from producing prototypes, moulds and short production runs and is becoming a tool for full production in its own right. Read more about this here.
Lighting & Signage
Our Massivit 1800 also lends itself very well to creating signage, lightboxes and bespoke lighting. The print medium is translucent and looks amazing when backlit. Not only can the Massivit print light boxes in any shape required, but it can also create textured profiles and returns, additional customisation that creates a real, eye-catching point of difference. Frames for soft signage are quick and easy to produce too, 3D printing producing complex shapes and curves with ease.
Get in touch
01904 239199
sales@fluxaxis.com