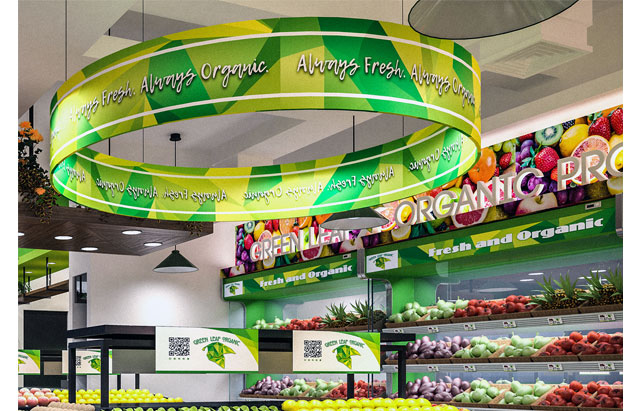 Vycom, a market-leading manufacturer of highly innovative plastic sheet products, today launched its Celtec® DigiLiteTM light density PVC sheets that offer economy while retaining the same print quality of Celtec premium signboard materials. Previewed at the PRINTING United show in October 2019, Celtec DigiLite material is now available for order through Vycom authorized distributors.
Celtec signboard is a premium PVC material that improves throughput in finishing, enabling print service providers to consistently and confidently produce high-value display graphics applications. The new DigiLite line provides comparable levels of quality and performance in an economical sheet that is approximately 15 percent lighter than Celtec premium signboard sheets. Lighter density sheets offer a more cost-effective solution by reducing shipping costs and providing ease-in-handling. DigiLite sheets offer superior ink adhesion for digital and screen printing processes. They can also be stained, varnished, laminated, and cut.
Consistent craftsmanship in manufacturing ensures print service providers always receive sheets with dependable quality. DigiLite sign materials offer superior UV performance, an optimized white point, and a satin finish that is ideal for light-duty applications such as exhibit signage, point-of-purchase displays, indoor and outdoor signage, decorated store fixtures, and more.
About Celtec Premium Signboard Solutions
The Celtec product line is designed to improve throughput in finishing, enabling print service providers to consistently and confidently produce high-value display graphics applications. The Celtec family – including new DigiLite, plus recently-introduced Woodgrain and Thick Gauge materials – is the most complete in range of thicknesses, finishes, and textures, for extruded PVC sheets available from a single manufacturer of 100% U.S.-made products.
Availability
Celtec DigiLite sheets are available for purchase in 3 mm and 6 mm thicknesses in standard sizes. Custom sheet dimensions are available by special order.
Vycom Recycling Take-Back Program
Vycom recently introduced its Recycling Take-Back Program intended to capture and recycle printed and unprinted PVC sheets, as well as scraps and drops from finishing and fabricating. The program is designed for users of PVC and PE products including DigiLite – in coordination with authorized distributors for drop-off or collection – to recycle used signage and scrap. Material is returned to Vycom facilities and recycled into the company's various products, ensuring these materials do not end up in landfills and instead in long-lasting, functional performance products.
About Vycom Corp.
Vycom, an affiliate of The AZEK Company (NYSE: AZEK), manufactures market-leading brands of highly innovative plastic sheet products designed to replace wood, metal, and other traditional materials in a variety of applications. The company's extensive inventory and product offerings provide its customers with the convenience of single-source purchasing and the ability to maximize efficiency. Vycom's manufacturing agility places it in a prime position to be the essential partner in creating solutions that optimize quality and performance, and in providing a more sustainable future. For more information, visit www.vycomplastics.com.