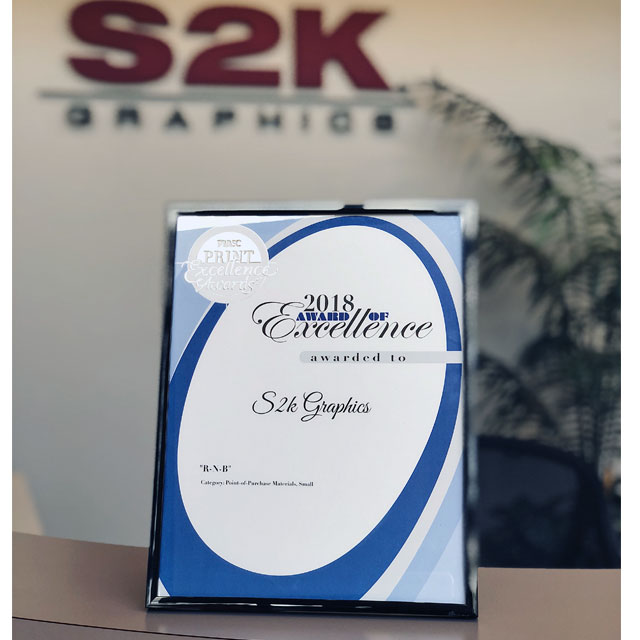 S2K Graphics takes home Award of Excellence at 14th annual Print Excellence Awards 
S2K Graphics, an affiliate of Franke Group and a nationally recognized leader in point-of-purchase (P.O.P.) merchandising, was recognized by the Printing Industries Association of Southern California (PIASC) at its 14th annual Print Excellence Awards ceremony held in April of this year.
S2K Graphics was awarded an Award of Excellence in the Point-of-Purchase Materials category for its patent-pending, exclusive window decal formulation called R-N-B (repositionable, no bubbles). R-N-B was formulated to combat typical window graphic installation challenges. Whereas traditional window graphics often require two people to properly install them, R-N-B was developed so that retailers need not rely on professional or experienced installation teams to properly apply oversized promotional graphics.
"We're tremendously proud of the way this product turned out," said Dan Pulos, founder and president of S2K Graphics. "As a printer, this was our first attempt at creating our own custom window graphic film. We saw the need for easier and better installation of large graphics on retailers' windows, and the customer response has been rewarding. We're currently shipping printed R-N-B oversized decals across the entire U.S. as part of a nationwide window graphic program for a leading fast food chain. With R-N-B, our client can self-install these huge window graphics with professional results. And that adds up to big cost savings and even bigger sales results."
The Print Excellence Awards competition accepts nominations from all graphic art firms — printers, finishers/binderies, brokers, graphic designers, ad agencies and in-plant operations — located within the service area of PIASC. The judging is done anonymously, and the panel is comprised of a team of distinguished professionals with a minimum of 10 years of experience in the graphic arts industry. Judges consider the quality of printing, degree of difficulty, technical expertise and overall visual appearance of submissions.
R-N-B was developed after extensive research indicated there was not a similar product in the marketplace. The product can be reused if removed within 30 days of initial installation and properly stored for future use. These features increase the percentage of correct installations a multisite retailer should expect in the field. R-N-B prints are priced comparably to perforated view-thru films, providing retailers with a high return on investment in both labor savings and field results.