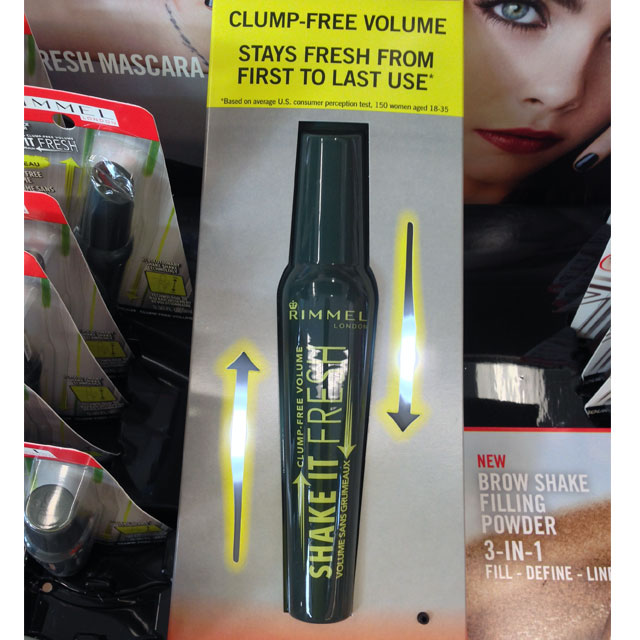 Introducing Rimmel's New Shake It Fresh Mascara
British cosmetics brand Rimmel London recently launched another breakthrough innovation with their Shake It Fresh Mascara. With exclusive patented packaging designed to refresh your mascara with every shake, the new variant is designed to stay perfectly clump-free.
Additional brand claims include:
Clump-free volume
Shaker system refreshes the formula to help prevent mascara from drying out
Ultra-smooth, clump-free volume from first to last use
Volume defining brush gives maximum lash separation from corner to corner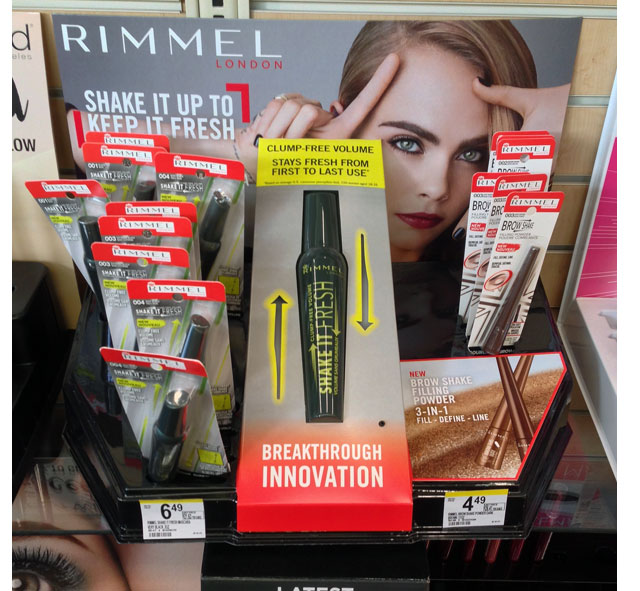 Rimmel rolled-out their new product launch in drug store retailers across the U.S. with this vacuum-formed display which was designed to hold the new Shake It Fresh and their Brow Shake Filling Powder. The center of the display showcased the Shake It Fresh product with a vac-formed product replica that was backlit under both directional arrows (see top image).
Besides catching shoppers' attention, the lighted arrows and yellow copy area highlighted the Shake It Up product attributes and created an interesting visual proposition in-store.
In addition to the links below, you can visit the gallery to view more of Rimmel's promotional collateral. Type rimmel into the keyword search box once you land in the gallery.
Related
Rimmel Never Go Naked Shelf Display
Rimmel Keep Calm And Balm End Cap
Rimmel Apocalips Wow Floor Display