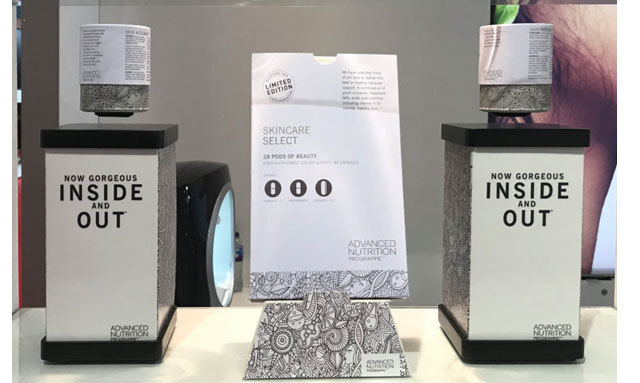 Cosmetics Freestanding Displays – IIAA
As an integral component of a new product launch, our client manufactures skincare supplements available via Spa's and Health Clinics. They also provide full training for the use of these products. Impulse designed and built a display offered as part of the intro package
We have created a unit that is completely flexible and can be used to free-stand. Parts of this unit can also be taken and used for a counter display. There is a lockable cabinet for high-value stock. From an original requirement of 50 units this has now doubled as the demand has exceeded expectations.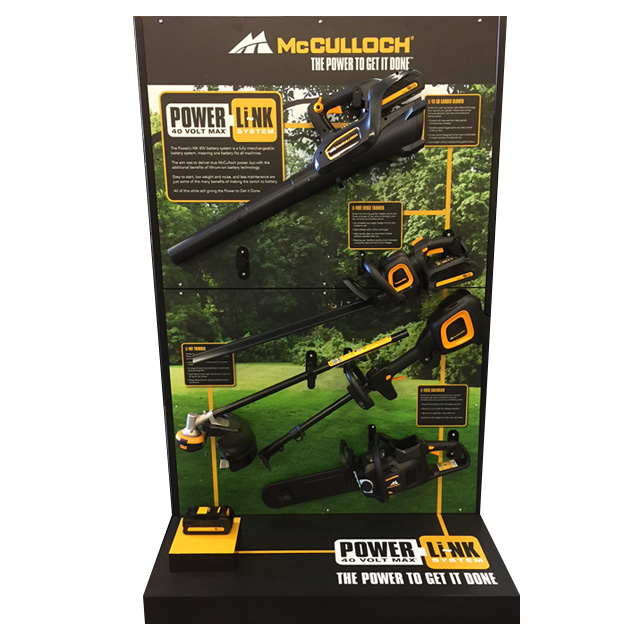 MCullochs – B&Q displays, and Powerlink kits for European units
Our group client with Cirka Creative has just implemented some cabinet displays for one of their brands, Flymo, who are introducing Robot Mowers into B&Q for this spring.
Cirka designed the unit (view work here), and Impulse built and delivered 51 units directly to top B&Q stores in the UK and Ireland. The unit demos one of the products. It also allows secure stocking of a further two units in a cabinet below.
On the back of a 2017 European roll-out of Powerlink Displays, we have designed, built and distributed ancillary kits for each unit to future-proof the new lithium battery which is being launched by the brand.
Craig and Rose Paint
Continuing to push hard into the DIY shed. We are producing more tester units, now incorporating our own uniquely designed Impulse spring pusher system.
This item will be available for inclusion in many other of our clients display units soon
Other work includes some prototypes for new business clients, including, Darts Products, and a Pen Brand. Current production orders include Outside units for Marshalls, the Paving specialist and some Free-standing Spinners for Tools of the Trade, the professional tools supplier.
We also continue with the delivery to forecourts of the Adblue displays, which has become a regular product of ours.
We continue the distribution of Retail Gondola Displays for CD and DVD into The Range, which follows their new store opening schedule.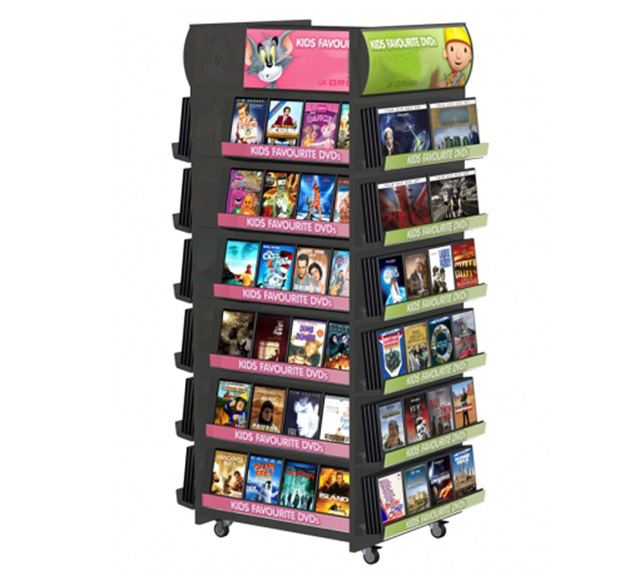 Creative Briefs
The Studio is currently working on briefs from a Granite Worktop Brand, a Premium Candle Brand, and a Consumer Electronics giant.
NDA's in place so cannot go into further details at this stage (but will be in a position to issue further details in the near future).
Please contact us to arrange a way of helping you achieve your goals.
About Impulse Point Of Purchase
Working with Impulses' team of experienced and knowledgeable designers, engineers and manufacturing personnel, we are confident that we can deliver what our clients want… Excellence in Retail!
Being a Full Service Provider is key to Impulses' success and with a UK based manufacturing plant, Impulse is capable of supplying quickly and efficiently across a wide range of materials including metal, wood and acrylic. Impulse continues to build its reputation with major brands in key market sectors and works regularly with some of the most recognisable High Street Brands and Retailers.
Visit Impulse Point of Purchase to learn more – www.impulsepop.co.uk
Cirka Creative – www.cirka.co.uk