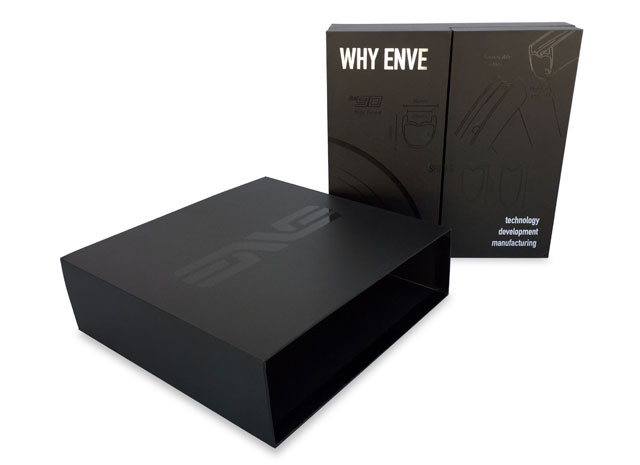 Enve Composites' advanced carbon fiber bicycle wheels and components are prized for their light weight, aerodynamics, and meticulous engineering. Made in America, they have become the go-to brand for competition racers and weekend enthusiasts alike. Concept Designs partnered with Enve to create a family of displays to present their products at retail.
Because Enve offers a variety of bicycle rim widths and colors, they required a way to assist retailers and their customers select the desired combination. This Tri-Fold Portfolio/Selection Guide holds rim cross-sections and color samples. These side panels flank a center pocket that holds product brochures. The Portfollio is made from printed corrugate and foam. The foam features custom cutouts that hold the rim samples securely, but still allow them to be removed for inspection by the customer.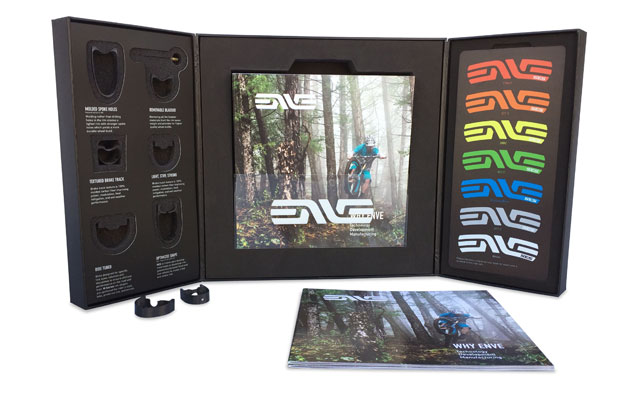 Concept Designs Inc., headquartered in Palo Alto, California, is a leading provider of innovative, custom retail display solutions. The company's award winning displays are innovative, cost-effective, and have been shown to increase their customers' sales by promoting their products and brands.