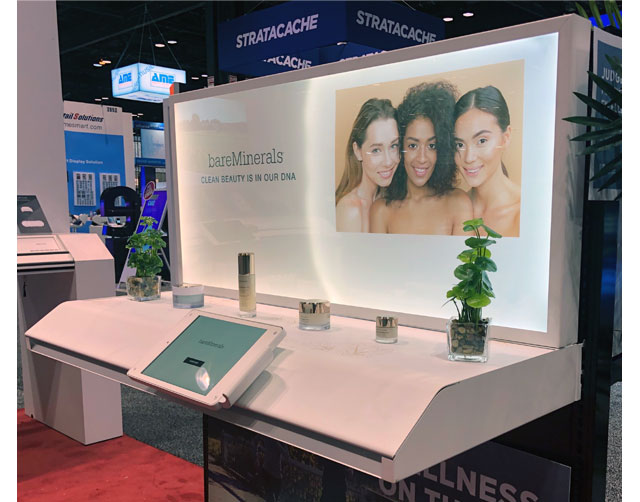 Converge Universal Kinetic Retail Display System is an Affordable Out-of-the-Box Solution for Brands and Retailers to Bring Interactivity into Traditional Retail Settings
Converge Retail, the company that brings the richness of online shopping to the in-store shopping experience, recently took the wraps off its latest kinetic retail display platform at GlobalShop 2019 (June 25-27, McCormick Place in Chicago). The Converge Universal Kinetic Retail Display System is poised to disrupt traditional retail by breaking down barriers most commonly associated with interactive in-store retail displays:
• Compact Form Factor: Four-foot sections can be joined for any size display and fit virtually anywhere, including narrow end-caps and other spaces not large enough to accommodate traditional retail displays.
• Installation Flexibility: System mounts easily on top of existing retail fixtures, or can be wall-mounted for even greater placement flexibility.
• Affordability: One of the most affordable all-in-one interactive retail displays currently available, ideal for small chains and other cost-sensitive brands and retailers.
• Ease of Deployment: System is ready to deploy out-of-the-box – no development resources required to get up and running.
• Small But Mighty: Despite its small form factor, the system offers the same interactive experience as the larger-scale Converge platform, with rich analytics, reporting and dashboard access to give brands and retailers detailed insight into the customer journey.
"The Converge platform has evolved significantly in the past year based on input from dozens of retailers and millions of customer interactions," said Paul Chapuis, CEO of Converge Retail. "The new Converge Universal Display builds on that insight, making it easier and more affordable than ever for retailers to integrate the Converge platform into their stores. Removing cost and installation barriers as we have puts interactivity within reach of virtually any brand or retailer that wants to engage more deeply with their customers."
The Converge Platform
The Converge platform features laterally-sliding interactive tablets that move with the customers through their shopping journey and automatically serve up rich content with product education, specs, tutorials and reviews that allow for a more informed purchase decision. This ability to deeply research and compare products available both in-store and online keeps customers in the retailer's ecosystem, whether the customer purchases a product off the shelf or makes an in-aisle purchase from the retailer's online inventory.
Converge is highly customizable and capable of displaying a wide variety of products, which is particularly relevant to product categories that benefit from richer education or that have higher price points, such as consumer tech, household goods and luxury categories. In addition, Converge can also be very effective in selling items with configuration and customization options, such as furniture, automobiles and other large-scale items. The platform's small footprint makes it possible for independent retail stores, pop-up shops and other small-scale retail operations to maximize their limited space and create virtual showrooms to sell products of virtually any size.
In addition to the new Converge Universal Display announced today, Converge is making significant upgrades to the chassis design, customer user interface and data analytics that extend across its entire portfolio of kinetic retail displays.
Retailer-friendly Installation & Deployment
The latest iteration of the Converge platform features a newly designed, flexible mounting system that integrates seamlessly with existing retail display fixtures. The modular rail system comes in 4-foot increments that work individually as end-caps, or join end-to-end to suit full-aisle runs of unlimited length. Retailers have the added flexibility of top-mounting the Converge display system, or mounting to the front or underside of existing retail fixtures. This level of configuration flexibility and the ability to easily refresh the assortment of products on display make Converge the ideal merchandising solution for retailers and brands alike.
Content deployment is greatly simplified with the new Converge platform, thanks to a new templating engine that accelerates the process of uploading content. This ensures the brand's most compelling visual and informational assets are easily accessible to customers as they engage with the display.
Improved Customer Experience
The Converge platform features a completely redesigned interface that makes it easier and more intuitive for customers to learn about the products on display. Tablet-based navigation delivers an interactive, informative shopping experience and makes it easier than ever for brands and retailers to create lasting customer engagement.
New Capabilities to Deepen Customer Engagement
The Converge platform has been updated with powerful new software that gives retailers and brands effective tools to measure and act on customer engagement:
• Salesforce integration enables a new scheduling functionality to automate follow-up with customers who engage with the platform.
• Analytics engine makes it possible to automatically generate and send customer engagement reports via email to key brand and retailer stakeholders.
• Customizable dashboard capabilities make it possible to display real-time customer engagement data; the retailer views information about the entire display, while brands view data pertaining only to their products.
• Bilingual support enables retailers to deliver content to customers in both English and Spanish.
About Converge Retail
Converge Retail is reinventing the in-store shopping experience with its newest technology platform, Converge. Converge is a digital retail display that elevates the tactile gratification of in-store shopping by adding a content-rich online experience. Customers have access to online in-aisle content, specially curated for an in-store experience, keeping them in the retailer's ecosystem from discovery to purchase, and provides new and powerful insights on customer in-store buying behavior for retailers and brands. For more information visit convergeretail.com.