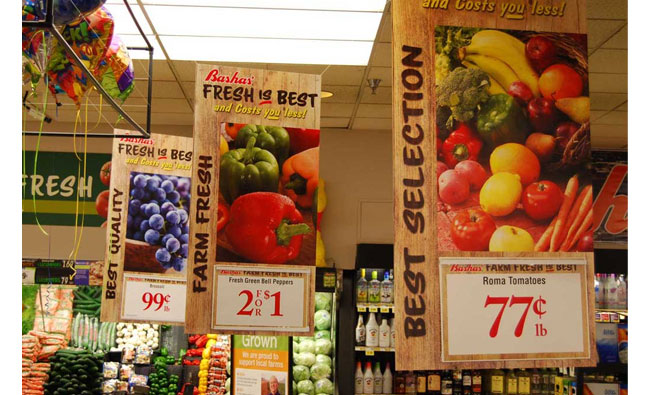 In the retail world, "POP" refers to point of purchase advertising displays. POP displays can take various forms; shelf-mounted signs, standing floor displays, hanging posters or danglers, end caps, inserts for stanchions, contour-cut standees and countertop displays. These are just a few of the POP display options which maximize product visibility and impulse purchases. Since an estimated 70% of purchases are made within the retail store itself, point of purchase displays can have a dramatic impact on your brand's sales.
Today's POP display printing technology provides creative and brand managers custom marketing advantages, as POP displays can be printed to the needs of local markets. It has never been more important for brands to use point of purchase displays to cut through the clutter and improve category performance. Unplanned consumer purchases are often the norm, so an effective, well-designed, gorgeously printed display or hanging graphic may sway a consumer to buy.
Planning and designing a point of purchase display and selecting its materials is a complex job. The right substrate for your POP display campaign is essential. There's a lot to know about materials and the right mix of them can make or break a display.
Below we explore 5 types of rigid materials commonly used in short and medium term retail displays. In Part 2 of this series, I'll explore materials for long term durable graphics.