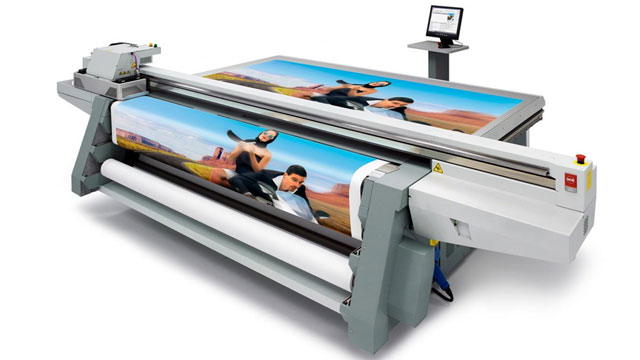 Large Format
Not so many years ago the wide-format printing market was still in an experimental stage and couldn't be considered a serious contender for production in commercial environments. Since those early days the advances in technology have been rapid, now reaching the point where digital has become the preferred format for many display applications. Reliability in machine build has accompanied the continuing evolution of print-heads and inks, resulting in platforms that produce consistent results that are fit-for-purpose; nowadays, it is rare to find a print business involved in large format jobs that doesn't have an ink-jet capability as part of its plant list of equipment.
Although there has been significant expansion of digital printing systems among display producers, screen-printing companies, sign-makers and, increasingly, the offset litho sector, this hasn't seen the total demise of analogue production methodologies. Where wide-format has scored, complemented by advances made in associative software and the materials available, is by bringing versatility and flexibility to all industry segments where the digital revolution has opened doors to low volumes, one-offs, versioning and variable data. To these criteria can be added environmental benefits through a process that uses no traditional chemistry, plus a reduction in waste and the advantages of just-in-time and on-demand ordering by brands and end customers.
Practical benefits from digital production
From a practical perspective, wide-format ink-jet production carries the advantage of faster turnaround times, better operating environments, easier logistics, and more efficient end-to-end workflows. Additionally, economic and stock reduction considerations have been factored into this mix and these have helped to bring ink-jet processes to the fore.
During the past two decades, therefore, there has been a significant change into the way that applications coming under the remit of large or wide-format are produced. This took digital print engines, typically ranging in size from 1.0m to 5m, from being speciality machines into the mainstream market. In that period of time, manufacturers have witnessed a metamorphosis in customer requirements, with today's considerations in a print device becoming more diverse and eclectic in many environments.