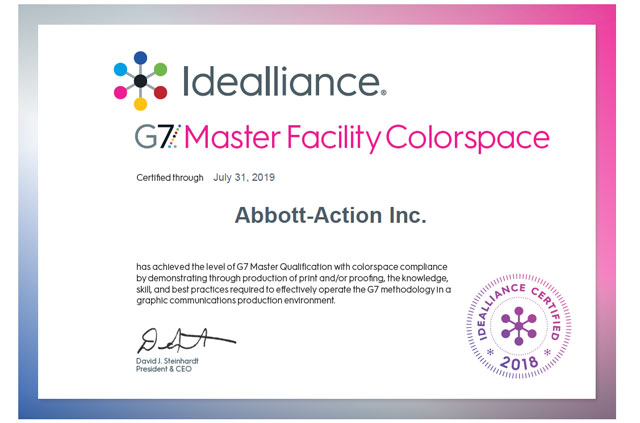 Abbott-Action, a renowned print service provider located in Attleboro,
Massachusetts, has achieved G7® Master Qualification, awarded by Idealliance®, a not-for-profit industry group dedicated to guiding print production best practices, specifications, and standards, worldwide. Abbott-Action joins a select group of print service providers who have successfully completed training, examination and qualification process of their print production processes, validating their capabilities to the highest level of global industry standards and specifications.
G7 is Idealliance's industry-leading set of best practices for achieving gray balance and is the driving force for achieving visual similarity across all print processes. The application of this meth- od enables printers to reproduce a similar visual appearance across all printing types and substrates.
Abbott-Action offers digitally printed retail packaging & temporary displays utilizing Barberán Jetmaster 1890. Already an efficient print provider, Abbott-Action looked to Certified G7 Expert, Juan Martorell of ColorInLab and the Idealliance G7 Master Program, to achieve further productivity gains to better serve its customer's objectives for brand color quality and control.
"Quality and repeatability are important to our customers," says Chuck Slingerland, Vice President of Sales & Digital Operations of Abbott-Action. "Our commitment to the G7 method is just one example of how we're maximizing our performance, to the benefit of our customers. We look forward to the benefits that standardization brings to both our clients and organization."

"G7 provides a significant advantage for Abbott-Action, utilizing the G7 Master Program to assure measurable, predictable, and a uniform color management process," commented Timothy Baechle, Vice President Global Print Technologies & Workflows for Idealliance. "We applaud their commitment to process control excellence commitment and support of the G7 Master Qualification Program."
About
Founded in 1935, Abbott-Action, a third-generation family business is the most
comprehensive supplier of the highest quality corrugated containers, wood
shipping creates, protective packaging, and display solutions in the Northeast
United States. Learn more at www.abbottaction.com.
Idealliance® is dedicated to guiding media production best practices,
specifications, and standards, worldwide. To learn more about G7 Master
Qualification, please visit http://www.idealliance.org.