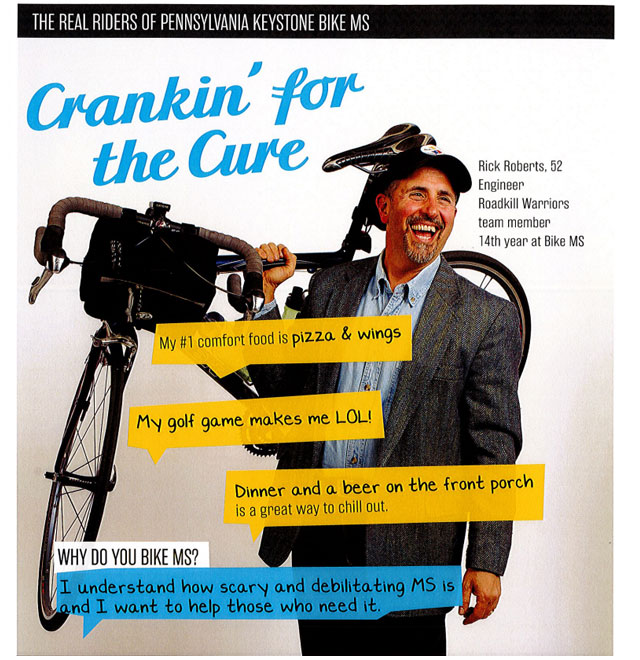 This past weekend, Team Roadkill Warriors took to the rolling hills of western Pennsylvania to support the National MS Society with their annual Escape to the Lake event. The 2-day, 150 mile bike ride started just north of Pittsburgh at Moraine State Park and eventually ended on the shores of Lake Erie in Conneaut, OH.
Team captain and 14 year veteran Rick Roberts told the Point of Purchase Online Network (popon.net), " This years ride was extra challenging. We always have the rolling hills to deal with but a strong wind played a factor in the ride this past weekend. After day 1, our overnight stay at Allegheny College was a much needed and welcome break." Since the events inception, participants have spent the night at the college campus where they are treated to live music, food and a beer garden……not to mention the rest and relaxation!
Rick further added that the ride is well organized with sponsors and volunteers that put together a world-class event. From the folks who tend the rest stops, to the bike mechanics and SAG vehicles, the Escape to the Lake Bike MS Ride brings on an incredible level of camaraderie filled with laughter, excitement, support and a profound sense of accomplishment.
Rick recently made an appearance on Comcast Creative to talk about team Roadkill Warriors as well as his personal commitment to help work toward a world free of MS. You can watch the entire interview by visiting youtube.
Popon was proud to support this year's event, which was held June 11 and 12, and to be part of the top MS fundraising team. This year, the Roadkill Warriors have raised over $58,000 and are still accepting post- race donations. If you would like to contribute to the cause, click here and you will be taken to their donation page.
Take a moment to check out the Roadkill Warriors facebook page to view some great event photos.