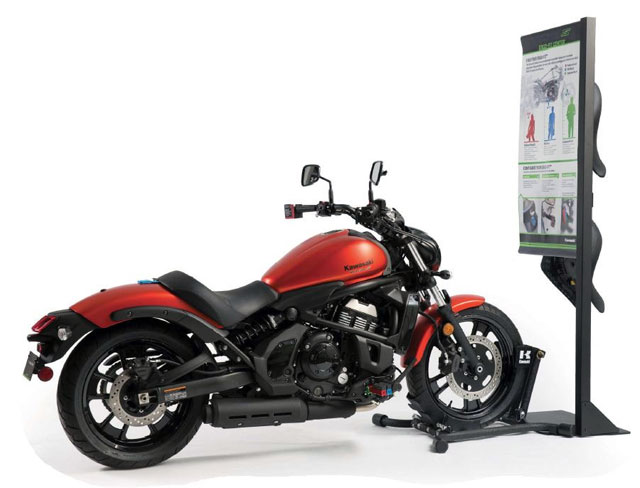 Leading point-of-purchase solutions provider recognized for innovative permanent motorcycle display for Kawasaki
OSI Creative, a leading provider of global supply chain managed solutions for point of purchase (POP) displays, consumer product packaging and branded merchandise programs, today announced it received a Gold Outstanding Merchandising Achievement (OMA) Award from Shop! for its Kawasaki Vulcan S Ergo-Fit™ permanent display. Shop! is a global non-profit trade association dedicated to enhancing retail environments and experiences.
"We are thrilled to be recognized by Shop! with a Gold OMA Award for our work in designing and building the Kawasaki Vulcan S Ergo-Fit display," said Joe Baksha, President and CEO of OSI Creative. "Developing this solution to meet Kawasaki's objectives, this permanent display required strategic problem solving, precise engineering, a creative design and quality manufacturing. The project showcases our team's innovation and commitment to our clients. We are honored to join the top companies in the POP industry in receiving the prestigious Gold OMA Award."
The rideable Kawasaki Vulcan S Ergo-Fit display features a Vulcan S motorcycle with an adjustable seat, foot pegs and hand grips to demonstrate the customizations available on the motorcycle. Customers are able to sit on the motorcycle and test the Ergo-Fit pieces for sizing. By incorporating all three sizes available on the Vulcan S in one creative permanent display, Kawasaki is able to ensure customers are fitted properly for their bike in order to eliminate extra labor for size adjustments. The comprehensive display also saves floor space, which can be used for additional inventory. The interactive display helped to increase sales as potential buyers interacted more with the Vulcan S motorcycle due to the ability to test its features.
About OSI Creative
One Source Industries, LLC, dba OSI Creative, is one of the nation's premier producers of award-winning point-of-purchase displays, custom packaging solutions and branded merchandise programs. OSI services include strategic input, planning, concept, design, sourcing, manufacturing, testing, assembly, packaging, installation, measurement, warehousing, fulfillment and logistics, as well as promotional products. In addition to its Irvine, California, headquarters, other OSI facilities are located in Bentonville, Arkansas; Chicago, Illinois; Memphis, Tennessee; New York, New York; San Pedro, California and Hong Kong. For more information, please visit www.osicreative.com.