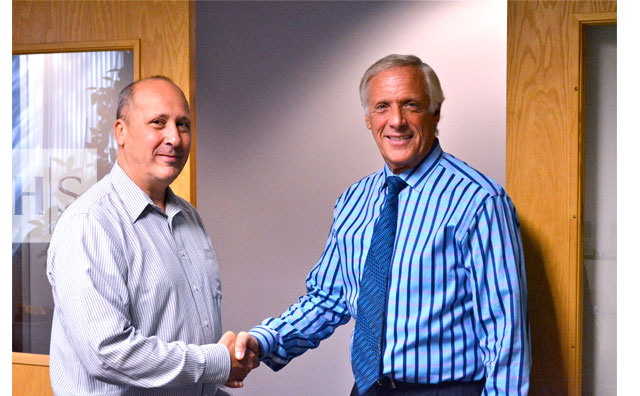 Veteran Henschel-Steinau executive Michael Luberto succeeds Gary Forman as President; Forman to retain CEO role.
Henschel-Steinau, a leader in retail marketing solutions, recently announced that long-time executive Michael Luberto has succeeded Gary Forman as President of the company. As part of a planned succession, Forman will remain in his current role as CEO, supporting the strategic governance of the organization. The transition leverages the experience and expertise of Luberto to further the company's competitive position as a best-in-class provider of point-of-purchase (POP) solutions to the retail marketing industry.
"It is with great pleasure that I pass the torch to Michael," commented Forman upon making the announcement at a companywide meeting. "He is the ideal person to assume the role of President, and brings to the position a proven record of accomplishments at Henschel-Steinau, as well as the respect of his colleagues both within the company and in our industry." Forman added, "I will continue to have an active role in the company as CEO, and look forward to working with our Board to further strengthen our position as a leading provider of retail marketing solutions."
Luberto brings to the President role an illustrious career with Henschel-Steinau, and a literal 'from-the-ground up' perspective. He began as an Intern with the company, and over the past 36 years, has attained positions of increasing authority, eventually being named Executive VP of Creative Services prior to this latest promotion. Under his direct influence, the company has become one of the most respected names in retail marketing, amassing numerous accomplishments and recognitions for innovative POP solutions for global brands and retailers such as Delhaize, Kimberly Clark, L'Oreal, and many more. A true innovator, Luberto's modular and ergonomic front-loading EZ Systems™ have been recognized by the United States Patent and Trademark Office. He is also an active member of Point of Purchase Advertising International (POPAI), the industry's global trade association. As a business leader, Luberto has been instrumental in supporting the company's strategic direction, while fostering a corporate culture in which all the stakeholders in the employee-owned company can thrive.
Luberto remarked, "Gary has left very large shoes for me to fill, and I welcome the opportunity to continue to draw on his expertise, experience and friendship. These are truly exciting times at both Henschel-Steinau and in our industry as a whole. I look forward to working closely with our entire organization to continue providing our customers with the high value, innovative POP solutions we are known for."
Forman's track record of outstanding service and leadership to Henschel-Steinau spans more than 43 years. He is widely credited with helping the company establish and maintain its excellent reputation as a leader and innovator within the retail marketing industry. In 2013, POPAI acknowledged Forman's achievements and contributions to the greater industry with an induction into the organization's Hall of Fame.
Michael DeSena, a senior designer at Henschel-Steinau with over 30 years of experience, will be moving into Luberto's former role as the new VP of Creative Services.
Henschel-Steinau provides a broad range of point-of-purchase services to the retail industry including design, project management, manufacturing solutions, and more. In response to the growing global demand for innovative POP solutions, the company has embraced the challenge of bringing sustainable solutions to the retail environment. Moving forward, Henschel-Steinau looks to continue to strengthen its strategic partnerships with new technology providers both domestically and internationally, with an emphasis on China. By continuing to be proactive in serving customers with innovative POP solutions using the best products from all over world, the company will meet the growing and diverse needs of the industry.
About Henschel-Steinau
Headquartered in Allendale, NJ, Henschel-Steinau has been recognized as a best-in-class provider for retail marketing solutions in the point-of-sale and in-store marketing industry for more than 55 years. The company provides retail shelf merchandising systems, custom point-of-purchase displays, warehousing and fulfillment services to Fortune 100 consumer goods marketers and retailers. Henschel-Steinau is located at 50 Commerce Drive, Allendale, New Jersey 07401 and can be reached at 201-760-4103. For more information, visit www.hspop.com.