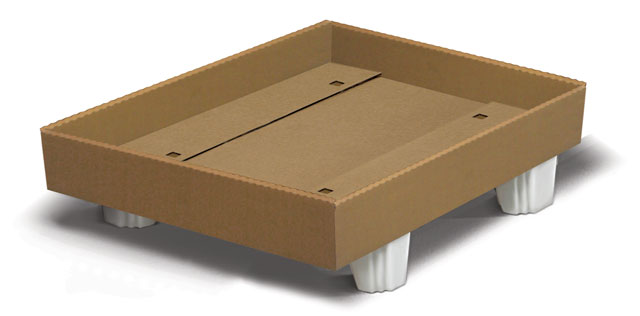 OptiTray® incorporates the innovative OptiLedge® to eliminate wood pallets for POP Displays
Created by IKEA, OptiLedge allowed the Swedish retailer to eliminate wood pallets throughout their supply chain in 2012. In 2014, OptiLedge LLC of Atlanta, Georgia purchased the OptiLedge business from IKEA, and maintains manufacturing and distribution in the USA, China, Australia, and the Czech Republic.
OptiLedge creates huge savings by reducing shipping weight, right sizing unit loads to fit the cargo rather than vice versa, and by drastically reducing pallet storage space. OptiLedges are made from curbside recyclable #5 polypropylene.
OptiLedge is a typically clever IKEA design that is revolutionizing the world of pallets. OptiTray is a further innovation combining a corrugated tray with OptiLedge runners to eliminate the traditional wood pallet required for displays.
"Many displays have to be removed from wood pallets once they arrive at the retailer…" says Jeff Lamb, President of OptiLedge LLC. "Since wood pallets may damage the sales floor, are a trip hazard and have the potential to soak up moisture when the floor is cleaned, retailers often transfer displays to another platform once at the store. This can damage the display and is labor intensive. The OptiTray is retail ready. It's light, waterproof, clean, and can go directly to the sales floor even if it's a hard wood floor or a carpeted area."
To find out more about the OptiTray for POP displays, contact Chris Metcalf at chris@safpaksolutions.com.